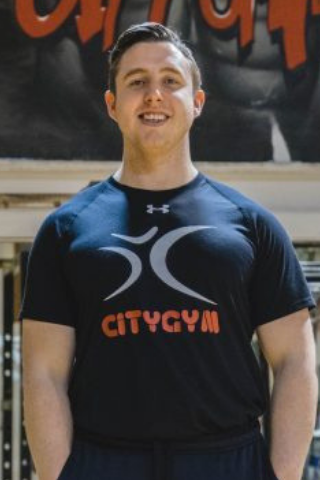 Gar Benn
Gar Benn is the Head of Coaching at Sigma Nutrition, where he works with nutrition coaching clients and oversees the coaching services. He is the owner of CityGym Limerick, a powerlifting-centric gym in Ireland. And he is also the co-founder of the European Powerlifting Confernce and Titan Ireland.
Gar is a qualifed nutrition coach and has completed courses in Motivational Interviewing and Acceptance and Commitment Therapy (ACT).
In this episode we discuss:
Questions submitted by Sigma Nutrition Radio listeners:
Brittany: As a coach what is the biggest thing you can do to help people navigate their emotional connection/behaviors to food?

Ciarain: My brother doesn't eat a well balanced diet and I'm trying to get him to change but he wont listen to me. How do I get through to him without him getting annoyed and frustrated at me?

Christopher: What would be your top, best bang for your buck nutritional/lifestyle interventions if you had a high paying CEO as a client who wants to lose some weight, be fitter and more vital in his daily life/business, but has limited time for gym, cooking etc. and demands the process to be as easy to implement as possible as he clearly does not want to make fitness and nutrition his nr. 1 priority in life? What would say is most effective+efficient in a situation like that? Thanks for your well appreciated input!

Natalie: Do all your nutrition clients get results & if not, why not? Next steps in that instance

Alexander: Identifying the problem when you hit a plateau, even when calories are low and activity/adherence is high

Wayne: The fact people ask for help but its not the answer they want

Ciaran: How do you help someone who has a fear of going off track and is too strict

Catherine: I am working from home now and I find myself constantly hungry although I know it's just boredom that is driving this hunger and not actual hunger. Is there anyway to manage this and prevent over eating?
If you regularly enjoy listening to Sigma Nutrition Radio and you'd like to take your support even further, then you can officially support the podcast by either making a one-time donation or via a recurring payment. If you wish to do so then you can do so here.
Thank you for considering!