Unlock the power of Sigma Nutrition with Premium.
Already a subscriber? Log-in
---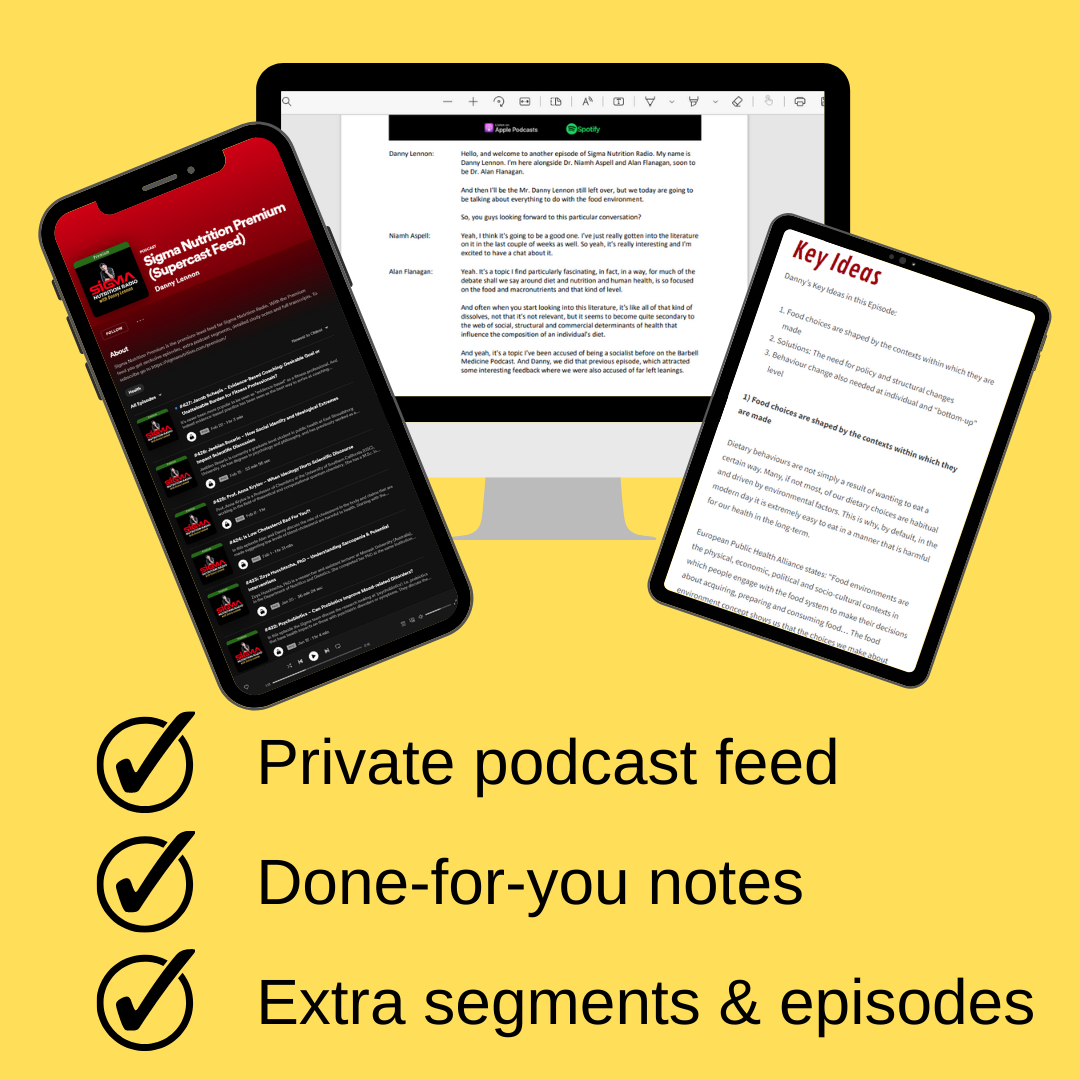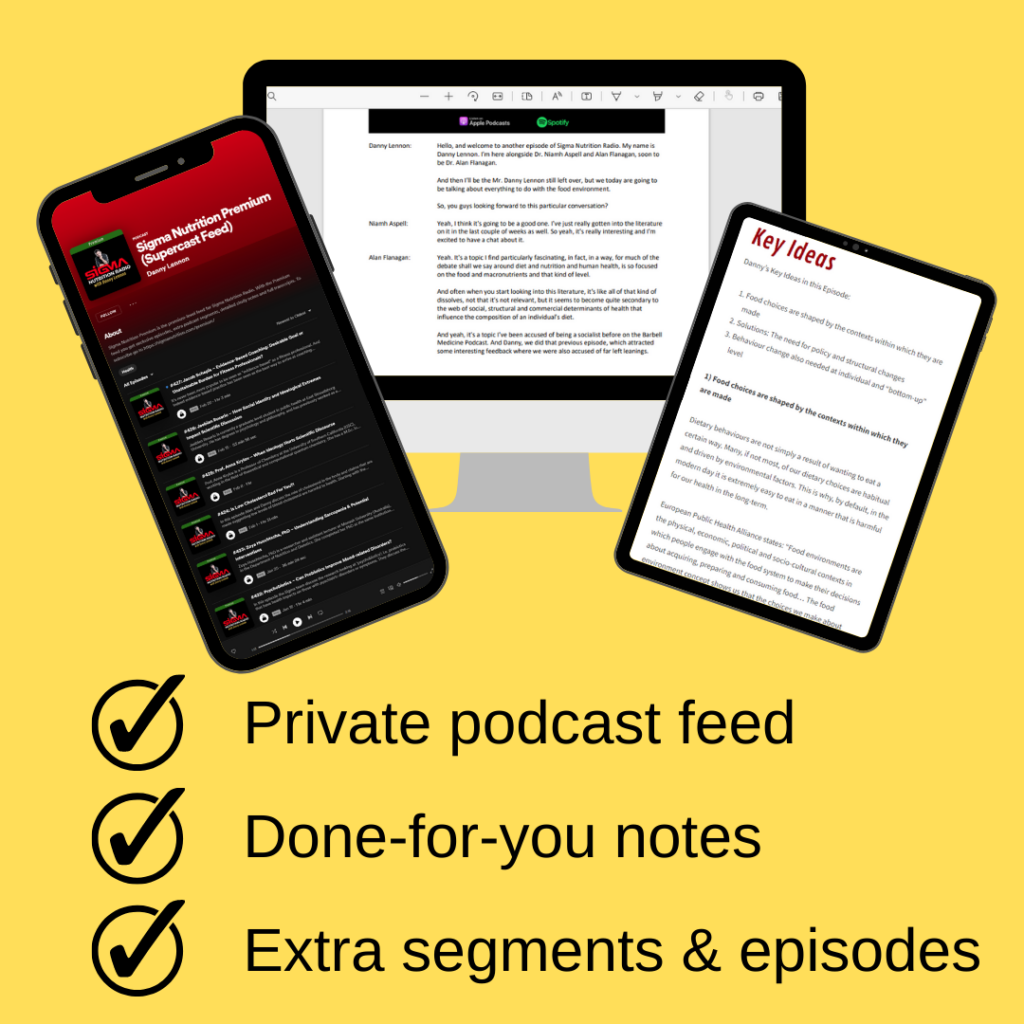 Significantly deepen your understanding of nutrition science and become truly confident in your knowledge.
---
No more forgetting details you heard on past episodes.
No more missing key insights.
No more half-understanding of ideas.
The goal of our Premium subscription is to allow you to:
Much more deeply understand each episode topic
Retain more of what you hear
Effectively recall details in your own future conversations or content creation
Easily and efficiently revise material or find specific points
Is this for you?
You already spend hours listening to nutrition podcasts and reading up on topics.
What if you now had a resource that helps you get much more out of your time and effort?
As you're a regular Sigma Nutrition listener, that means a few things…
You find nutrition fascinating and important.
You get a buzz from the feeling of understanding a topic better.
You want to learn from true experts doing nutrition research or working in nutrition practice.
But, like us, you're allergic to the unethical, misleading, sensationalist information that floods the internet.
You want scientific discussions that are not only fascinating but are also accurate, objective and truly evidence-based.
And you know that podcasts are one of the best ways to access such discussions and keep up with the latest research and insights from the greatest minds in nutrition & health science.
But there can be a few challenges in using podcasts for educational purposes…
Have you ever listened to a podcast episode and found it absolutely fascinating, but then a few days later you find yourself unable to remember all the details that you'd like to?
Or maybe you remember feeling that you wish you could quickly revise over material, without having to re-listen to the whole episode?
Has there been times when you've felt you only vaguely understand a concept or term mentioned in an episode?
You know, those times when you get the feeling you're just missing some background information.
Or perhaps you really enjoyed a detailed discussion, but are left wondering "what are the key takeaway points?" or "what does this mean for my dietary choices or advice to others?"
Sigma Nutrition Premium solves all of these challenges for you!
How to deeply understand nutrition topics
In order to feel confident you have a "deep" understanding of a topic (and be able to retain that), you need to:
be able to revise the material in an efficient manner
be able to quickly refresh your memory of important details
be able to know what the key ideas from each discussion are
get access to extra information that makes the content make more sense
actually understand the terms and concepts that are being discussed
And if you want to really study and learn from the content you consume, you're probably leaving a lot of knowledge on the table if you only passively listen.
That's why we've created Sigma Nutrition Premium.
Through a number of awesome resources, you can get far more from every podcast episode you listen to…
What resources do I get? (Subscriber Features)
As a Premium subscriber you get exclusive access to:
What's the best way to take your learning to the next level? By treating your podcast listening like true study.
But what about if you didn't have to create study notes yourself?
Imagine having a detailed set of notes crafted for you…
Key terms explained, background context laid out, concise descriptions of, and all the details of an episode laid out clearly in text format.
Well, now you don't have to imagine, we provide you with high-quality study notes, made by Danny and the Sigma team. Please note, the detailed study notes start from episode 428 onwards.
To see an example, skip to 2.25 of the video below.
One of the most effective ways of consolidating learning is to have a clear revision of the main ideas after the material has been discussed.
So it'd be great to have this for every podcast episode, right?
Or maybe you've always wondered what Danny sees as the key points from an episode after he's done an interview?
Well now, at the end of each podcast episode, Premium subscribers will hear Danny give his 2-3 key ideas from that discussion.
You'll also get these laid out in text format, so that you can revise over them and or use them in your future content creation or professional work.
Full transcripts will be available only to Premium subscribers.
When logged-in with a Premium account, you'll see the transcript right on the show notes page for that episode.
You'll have the option to read it directly on the website, download it as a PDF file, or print it off if you prefer a physical copy.
This is a fantastic resource if you want to revise the material, if English isn't your first language, or you want to copy a particular quote from the episode to reference in any content you are creating.
Discounts on Sigma Live Events
Premium subscribers will get early access to tickets for our live events and will receive a special discounted ticket price.
Our next live event takes place in Dublin, Ireland on May 28th.
Exclusive Premium-only Episodes
Premium subscribers will get exclusive, full-length bonus episodes directly in their feed every month.
This includes full 'Quack Asylum' episodes, where we'll dive deep into one specific claim or topic that has become popular but is actually quackery.
You'll also get 'Nutrition Science Explained' episodes, where a specific concept or term that comes up in nutrition science conversations is explained in more detail, so that from now on you'll understand everything you hear in main podcast episodes, while also enhancing your understanding of nutrition research.
What Does This Look Like?
---
Why Sigma Nutrition?
Here's why Sigma Nutrition Premium may be exactly what you're looking for:
Content at a specific level – We DON'T do nutrition basics and simple tips or make content for the general public. Our content is geared specifically for nutritionists, dietitians, health professionals, nutrition science students and academics.
Ethical & objective information – Help us fight back against the overwhelming amount of pseudoscientific nutrition information that is created. We don't promote a specific diet. We only care about accurate representation of nutrition science.
Trusted by nutrition academics and renowned dietitians/nutritionists – Our audience includes a large number of people working in nutrition research and high-level dietetics and medical positions.
Domain expertise – All of our team creating podcast episodes and written material come from a nutrition science background academically. And our podcast guests are legitimate experts in the topics they discuss.
We rely on you! – We don't write fear-mongering diet books. We don't run ads for pseduoscientific "wellness" products. We don't sell magical "cure-all" solutions to profit off people. Sigma Nutrition relies solely on you, it's supportive listeners, to fund our content creation and to keep the bills paid.
---
Become a Premium Subscriber!
Price in US dollars ($ USD)
You're already a Premium subscriber! You can access Premium content by visiting the show notes page for any episode you wish.
You should have also received an email with details on how to add the Premium feed to your favourite podcast app. If you're having problems, see the FAQ below.
Prefer a lifetime subscription? Sign up here for a one-time fee of $599.
---
FAQ
How do I listen to subscriber-exclusive podcasts and content?
We will provide you with a unique podcast feed that you'll be able to add to your favourite podcast player. Adding this feed to your favourite podcast player only takes a couple of taps. We currently support Apple Podcasts, Spotify, Castro, Overcast, Podcast Addict, Pocket Casts, Podcast Republic, Downcast, RSSRadio, Podkicker, and more. Unfortunately we aren't able to support Stitcher, or any other podcast player that doesn't support importing private feeds.
What is the Premium feed? And how do I access it?
Once you have subscribed, the most important step is to connect to our Sigma Nutrition Premium feed in your podcast player. This is where you will find all the premium content that your subscription bought you.
The Premium feed is separate from the public Sigma Nutrition Radio feed. The free, public feed won't automatically update with the premium content. Instead, you will have to add Sigma Nutrition Premium to your podcast player to listen to the member-only content.
This is a really simple and quick process. And it is all clearly explained in your initial email you receive on subscribing. If you need more details you can read this step-by-step guide.
How do I access the Detailed Study Notes and transcripts to episodes?
When you're logged-in as a Premium subscriber, you'll automatically see the detailed study notes, summary of key ideas and the episode transcript when you go to the show notes page for that episode (linked in the episode description in your podcast app).
If you are not logged-in, you'll see the content is locked. There will be a link to log-in if needed.
Note: Detailed Study Notes are available from episode 428 onwards.
How do I cancel my subscription?
You can cancel your subscription at any time from your subscription page. Once you cancel, you'll continue to receive premium benefits for the remainder of your payment period.
How can I change my email address, password, card details, etc.?
You can learn how to manage your subscription and change any details in this simple guide.
Do you offer discounts for college students?
Yes. We know how many nutrition, medicine and health science students rely on our content as a valuable adjunct resource to their studies. So we currently offer currently enrolled students 20% off the normal price (So $12 USD/month).
In order to get the discount…
Confirm that you're a student by completing this application form.
You will need to provide a screenshot of your university web portal, clearly showing current enrollment.
Please ensure the screenshot shows the current semester (e.g. Spring 2022 or the date/time).
Once we've received your application and confirmed your status, we'll email you a secure link where you can subscribe to Sigma Nutrition Premium at the discounted rate.
The student discount lasts for a period of 12 months. If you are still a student after that, you can simply re-apply for the student rate.
Can I send someone a subscription as a gift?
Yes! Just click on the "Gift" button above. You can choose how long your gift subscription applies for. Your credit card won't be associated with the subscription, and to continue after the gift period, the subscriber will need to provide payment info.
I don't want a subscription but would like to support Sigma. Can I make a one-time donation?
Absolutely. You can make a donation here. Thanks for your support!
I can't afford a subscription right now due to personal circumstances.
We know that some of our loyal, regular podcast listeners may wish to subscribe to our Premium membership, but for a variety of reasons may not be able to afford it right now.
Whether you've recently been out of work, suffered a significant financial hit, or perhaps live in a region where economic issues may the full price difficult to afford, we still want to allow those most interested to keep up their subscription.
So if you're genuinely in a tough spot, but are a regular listener or current subscriber, you can subscribe at half-price ($7.50 p/m) for a period of up to six months, no questions asked. Just click here to do so.
If at that time you're able to afford the subscription then great! If not, simply cancel and request a renewal until you're back on your feet.