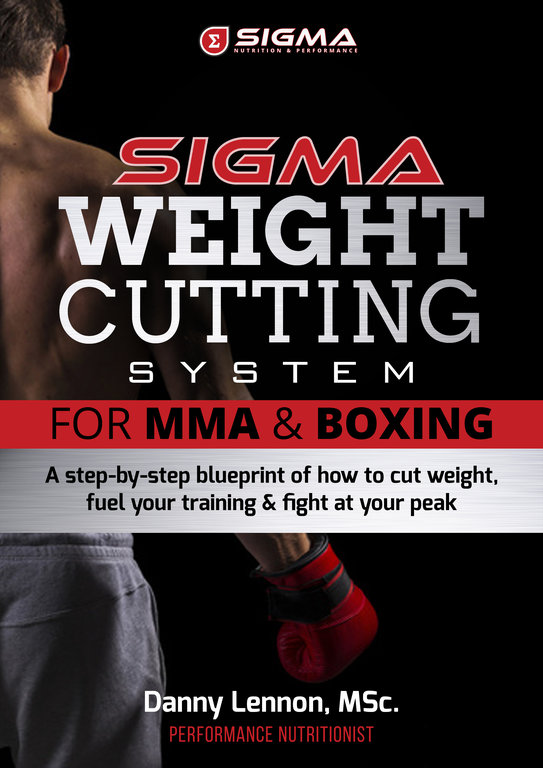 The Scientific Approach to Making Weight & Fuelling Performance in Combat Sports
Learn how to:
Customize your own weight cutting for MMA protocol
Set-up your diet so that you perform at your best in every training session
Design your pre- and post-training meals to maximize your recovery
Make weight without using ineffective, unscientific fads
Pick only effective and legal supplements
Rehydrate and refuel optimally after your weigh-in
Gain Expertise in Weight Cutting for MMA
The Sigma Weight Cutting System is a complete system for you to learn and apply for yourself so that you can take control of your performance nutrition, make weight effectively and be the best fighter you can be.
It also provides all the details behind how to apply this, which is especially important if you are a coach or nutritionist working with combat sport athletes who need to make weight and win.
If you're looking to understand weight cutting for MMA at a deep level, then this is the resource for you.
Understand everything you need to know in order to customize your own weight cut protocol and fuel your training.
The Sigma Weight Cutting System is a step-by-step blueprint of how to use science when weight cutting for MMA.
The best athletes don't leave anything to chance. They make sure their preparation is perfect. Now you can do the same.
Please note: This is a digital only product. All of the content is via digital download and there are no physical items shipped to you.
Additional Resources Included:
Weight Cut Customizer Tool

Work out the details of your weight cut based on your weight class and degree of weight you wish to cut

Cycling Calorie & Carb Intakes (Resource Guide)

How to periodize your weekly nutrition based on your training schedule, goals and preferences. Explains how to cycle you calorie and carb intakes effectively.

Sample Diets (Resource Guide)

Based on the content in the e-book, this guide will give sample diets to show you what a good dietary set-up during fight camp may look like.

Fight Week Sample Diets (Resource Guide)

Shows what practical meals may look like on fight week depending on target carbohydrate, sodium and fibre goals.

Food Sources Tables

Compiled tables showing good options for high-protein, high-carbohydrate or high-fat foods. Also includes serving sizes, calorie content, leucine content, fibre content, etc.
Learn how to effectively plan for the 4 nutrition phases of combat sports:
Phase 1: Fuelling Training & Recovery Nutrition

Understand the fundamentals of nutrition, hydration and supplementation to fuel training performance, maximize recovery and immune function.

Phase 2: The Fight Camp

Dial in your dietary strategy to begin the weight making process, without negatively impacting your performance in the gym.

Phase 3: The Fight Week Cut

Learn the proven strategies that will allow you to acutely cut significant bodyweight in the final week before weigh-in. Includes manipulating glycogen, electrolytes, body water and gut residue.

Phase 4: Rehydration & Refuelling

Making weight is only one part of an effective weight cut. It's useless unless you can actually go and perform at your best. Get an exact lay out of how to rehydrate and refuel after the weigh-in in order to be at your best come fight time.
About the Author
Danny Lennon has a master's degree (MSc.) in nutritional sciences from University College Cork, and an undergraduate degree in biology and physics education from the University of Limerick.
Danny is the performance nutritionist to a number of professional boxers and MMA athletes who have fought all over the world.
He takes an evidence-based approach to performance nutrition, using strategies that are based on sound science blended with experience of working with elite athletes.
Danny is a blue belt in Brazilian Jiu Jitsu and avid MMA fan.