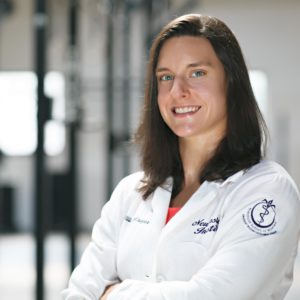 Allison Brager, PhD
Dr. Allison Brager is a behavioral neurobiologist with an expertise in sleep and circadian rhythms for the United States Army (active duty), as well as their contributions to psychiatric, neurological, and inflammatory disease states. She is currently the Director of Human Performance Operations and Outreach Education at the US Army Warrior Fitness Training Center in Fort Knox, Kentucky.
Her work has examined sleep and activity regulatory mechanisms as well as adaptation and resiliency to environmental stressors such as exercise, jet lag, and sleep deprivation. She consults with US Olympic, collegiate, and professional sporting teams and major police and fire departments (e.g., NYPD, Boston) in preparation for travel and to create sleep friendly environments.
She has served on the Board of Directors of the Sleep Research Society and presently chair a public advocacy committee for the Society for Research on Biological Rhythms. She previously was a Postdoctoral Fellow at the Morehouse School of Medicine in Atlanta, Georgia, as well as the Chief of the Sleep Research Center at the Walter Reed Army Institute of Research.
In This Episode We Discuss
Sleep architecture: what should the sleep stages/cycle look like?
What can we do to promote the best sleep architecture?
Interventions can acutely rescue performance (cognitive or otherwise) for individuals who are sleep deprived
Inter-individual variation of chronotypes
Trainability: overcoming genetic chronotype if needed for work
"Sleep resiliency"
Light exposure early in the day: How much and how soon.
Impact of training late in the day: does hyperarousal impact sleep?
Do sleep measuring devices accurately track sleep stages?
If you regularly enjoy listening to Sigma Nutrition Radio, I'd love if you could take a moment to consider showing your support.
First, if you could leave a review on iTunes that would help the show a lot and I get to read every single one of them!
Then if you'd like to take your support even further, then you can officially support the podcast on Patreon. You can pledge $1 per episode, and cancel at any time. All the money goes into providing transcripts of all the podcasts and supporting materials.
Thank you for considering!
[optin-monster-shortcode id="wwguvismdns9ocffhahd"]