---
Introduction
The term 'tactical populations' has been applied to those working in law enforcement, fire, first responders, and military. In addition to the importance of their work, the work they do itself presents some challenges for health and nutrition.
Despite the fact that such individuals make up a significant number of the population and their work plays a crucial role in society, there is currently very little research on fire and law enforcement nutrition. Most research is on the prevalence of disease and the occupational risk factors and related pathophysiology. Lifestyle research, descriptive and interventions, is way behind.
Dr. Jill Joyce is the co-director of the OSU Tactical Fitness and Nutrition Lab at Oklahoma State University. She does research looking at real-world interventions in these populations, particularly firefighters, in an attempt to improve their diets and health.
In this episode, we look at both the theoretical and pragmatic realities of improving diet and health in firefighters and some other tactical populations.
---
Guest Information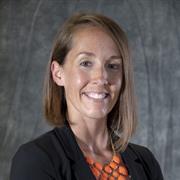 Jill Joyce, PhD, RD
Dr. Jill Joyce is a Registered Dietitian and an Assistant Professor of Public Health Nutrition at Oklahoma State University. She is the co-director of the OSU Tactical Fitness and Nutrition Lab. The lab's mission is to improve the health, fitness, and occupational performance of tactical athletes through education, research, and outreach.
Her area of expertise lies in assessing how healthy the diet is, or dietary quality, and in designing programs to improve dietary quality of large groups of people. Dr. Joyce focuses currently on improving dietary quality through school nutrition and with tactical athletes, including firefighters, police officers, and military personnel and their families.
After graduating from her masters program in Clinical Dietetics and Nutrition, Dr. Joyce spent close to decade moving around the US (her husband was active duty in the military), working in a variety of settings from in-patient clinical and out-patient eating disorder treatment to home health and childcare menu development.
---
Related Resources
---
Detailed Study Notes
You are currently not signed-in as a Premium subscriber. To view our Premium content, please either log-in to your account or subscribe to Premium:
Current subscribers: Click here to log-in
New subscribers: Click here to subscribe
---
Transcript
You are currently not signed-in as a Premium subscriber. To view our Premium content, please either log-in to your account or subscribe to Premium:
Current subscribers: Click here to log-in
New subscribers: Click here to subscribe
---
Login