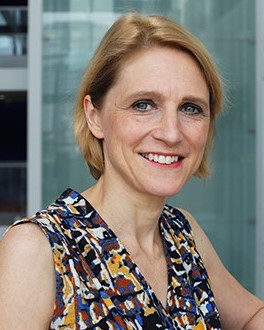 Prof. Corinna Hawkes
Professor Corinna Hawkes has been working for the past 20 years with UN agencies, governments, NGOs and academia at the local, national and international level to support the design of more effective policies throughout the food system to improve diets and prevent malnutrition in all its forms.
She is currently Director of the Centre for Food Policy at City, University of London, UK, a Centre dedicated to shaping a more effective food system through education, research and engagement with the world of food policy.
In 2018 she was appointed Vice Chair of the London Child Obesity Taskforce by the Mayor of London. She is also a Distinguished Fellow at the George Institute for Global Health and co-investigator at the Obesity Policy Research Unit in the UK.
She was a member of the EAT-Lancet Commission on Healthy Diets from Sustainable Food Systems and the Lancet Commission on Obesity and between 2016-18 co-chair of the Global Future Council on Agriculture and Food Security, World Economic Forum. Between 2015-18 Corinna was Co-Chair of the Independent Expert Group of the Global Nutrition Report, an international report tracking progress in malnutrition in all its forms across the globe.
Corinna has worked at the World Health Organization, the International Food Policy Research Institute, the University of Sao Paulo and as Head of Policy and Public Affairs at World Cancer Research Fund International, where she established the NOURISHING Framework which tracks policies to promote healthy eating worldwide. Her over 100 publications explore the problem of unhealthy diets, its linkages with the systems that provide our food, and the policies and actions to address it.
In this episode we discuss:
Understanding food systems
The common drivers of different forms of malnutrition
Forces that dictate the appearance of poor quality food in the food supply (beyond simply market demand because we like the taste of certain foods)
Socioeconomics impacting food choices
How peoples' political philosophies can dictate their openness to certain policies
Top-down regulation vs bottom-up regulation - i.e. Regulation of food industry or incentives or food industry (e.g. re-formulation of current products) vs. regulation that directly targets/impacts individuals (e.g. sugar tax)
The process of making policy change happen
If you regularly enjoy listening to Sigma Nutrition Radio and you'd like to take your support even further, then you can officially support the podcast on Patreon. You can pledge $1 per episode, and cancel at any time. If you'd prefer not to pledge a recurring payment, but instead send a one-time tip/donation, you can do so here.
Thank you for considering!