Share this episode on Facebook
---
Episode 199: PhD researcher Ciaran Fairman of Ohio State University discusses the field of exercise-oncology and how exercise is helping cancer patients/survivors at all stages of the diagnosis, treatment and rehabilitation.
Get the podcast on iTunes (iOS)
Get the podcast on Stitcher (Android app)
Click Here to Get Podcast Transcripts

Guest Bio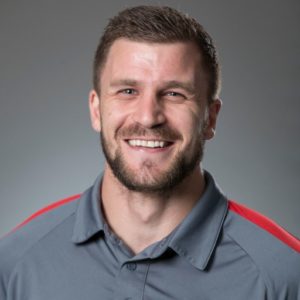 Ciaran Fairman (PhD can.)
Ciaran Fairman, M.S. is currently working on his doctorate in the Kinesiology program at The Ohio State University. Ciaran received his M.S. in Kinesiology from Georgia Southern University, working in the Human Performance laboratory, and holds several nationally accredited certifications through the American College of Sports Medicine (CPT, HFS, CET), and International Society of Sports Nutrition (CISSN).
Ciaran's research interests focus on the effects of acute and chronic interventions on physiological and psychosocial outcomes in different populations. More recently, Ciaran has focused his interest on cancer survivors. He is the founder and chief exercise physiologist at REACH, a non- profit organization aimed at providing cancer patients and survivors with evidence based recommendations of physical activity and lifestyle behaviors to optimize survivorship. Ciaran has published over 15 peer-reviewed papers, book chapter, and abstracts on sports nutrition, supplementation, and training adaptations.
In This Episode We Discuss:
The emerging field of exercise-oncology
Standard advice around activity, rest and exercise during cancer treatment
The role of exercise at different stages; from diagnosis to recovery
The impacts of both resistance training and endurance training on different outcome measures
Potential for more advanced periodization, programming and use of RPE in training for cancer survivors
Links & Resources
---
Enjoy this episode?
Share this episode on Facebook
Support the podcast on Patreon
---
Related Episodes:
---