Episode 13: Pedro Bastos is a specialist researcher in the area of dairy consumption and human health. He comes on the show to talk about the consequences of consuming different types of dairy for different types of people.


Guest Bio
 Pedro Bastos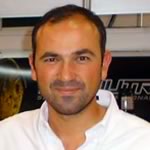 Pedro Carrera Bastos is a Portuguese PhD candidate in Nutrition at Lund University, Sweden (under the supervision of Dr. Staffan Lindeberg, author of the Kitava Study) and holds an MSc in Human Nutrition and Post-graduate Diplomas in Clinical Nutrition, Exercise & Health and Functional Nutrition.
Professionally he is Director of Education at NutriScience (a Portuguese education and consulting company), and lectures extensively about Nutrition in Europe and Brazil.
His research interests are dairy products and human health, nutrition and chronic inflammatory/auto-immune diseases, food and intestinal permeability/endotoxemia, evolutionary medicine, role of micronutrients in human health, and the role of nutrition on exercise-induced inflammation.
In This Show We Discuss:
Applying an evolutionary template to nutrition
Evolution and adaptation to certain food types
Lactose intolerance and lactase persistance
Is IGF-1 a benefit or a danger?
The insulin response of milk and other dairy products
Use of milk post-workout
Raw milk vs. pasteurized milk
Milk proteins and cross-reactivity
Goat's dairy vs. Cow's dairy
Clarified butter and ghee
Links & Resources
 pedro.bastos.science@gmail.com
Quotes from this Episode:
"Everything in life is about interactions, it's about context"
"As much as some people want to recreate those ancestral Paleolithic environments, it's virtually impossible to do in the Western world"
"Are there adverse effects of reducing the amount of milk you have?"
"One thing is a template but another is individual recommendations for personalised nutrition"
---
Enjoy this episode? You might get some value from these…
Download the Baseline Rx Manual:
---