Podcast: Play in new window | Download | Embed
Subscribe: Apple Podcasts | Google Podcasts | Stitcher | RSS | More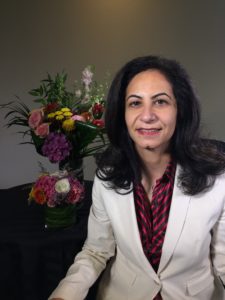 Samia Mora, MD, MHS
Dr. Samia Mora is an Associate Professor of Medicine at Harvard Medical School, Boston, Massachusetts. She is a cardiovascular medicine specialist at the Brigham and Women's Hospital, where she is the Director of the Center for Lipid Metabolomics. Dr. Mora's research focuses on risk factors and prevention of cardiovascular disease.
Dr. Mora received her undergraduate degree from Harvard University, and her medical degree from Harvard Medical School. She completed an internal medicine residency at Massachusetts General Hospital and a cardiovascular disease fellowship at The Johns Hopkins Hospital, where she also obtained a Masters in Health Science (Epidemiology) from the Johns Hopkins Bloomberg School of Public Health.
She is board certified in cardiovascular disease and echocardiography, and is a Fellow of the American Heart Association, American College of Cardiology, and American Society of Echocardiography. She also serves on the Editorial Boards of JAMA Internal Medicine and Atherosclerosis. Dr. Mora is an Elected Member of the Association for University Cardiologists and the American Society for Clinical Investigation.
In This Episode We Discuss
Understanding lipoprotein types: HDL, LDL, IDL, VLDL, Chlyomicrons, chylomicron remnants, Lp(a)
Lipoproteins vs. cholesterol content: LDL vs. LDL-C
Role of lipoproteins in atherosclerosis
What increases the probability of a particle penetrating the arterial wall
Clinically relevant markers for risk: TC? LDL-C? NHDL-C? TC/HDL-C?
Are small, dense LDL more atherogenic than large LDL particles?
Concordance & discordance: LDL-C and: LDL-P, ApoB
What % of the population have ApoB # discordant with LDL-C?
The most informative markers to test for an individual looking at monitoring their CVD/atherosclerosis risk
If you regularly enjoy listening to Sigma Nutrition Radio, I'd love if you could take a moment to consider showing your support.
First, if you could leave a review on iTunes that would help the show a lot and I get to read every single one of them!
Then if you'd like to take your support even further, then you can officially support the podcast on Patreon. You can pledge $1 per episode, and cancel at any time. All the money goes into providing transcripts of all the podcasts and supporting materials.
Thank you for considering!